Catering, Private Chef, Food Events in Porto-Lisbon Portugal
 WE COOK
FOOD THAT CONNECTS
Surprise your family & friends
with an unforgettable dining experience inspired by nomadic world cultures and
traditions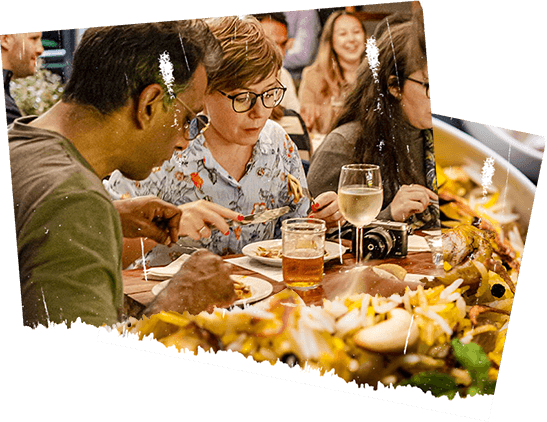 Connecting people through our social and private food events
Unwind, try delicious subcontinental food, and enjoy the company of like-minded people. During every event, you not only have a chance to try new, aromatic flavors but also learn about the culture and traditions of Pakistan.
A TASTE OF THINGS TO COME
A Colorful Journey Through Pakistan
With a creative approach, we present authentic Pakistani food cooked to perfection with a passion.
Private Events
For Friends and Family who want to share special moments
Be the host & guest simultaneously! We take the stress out of entertaining, book us to cook in your own home and enjoy a relaxed time with your friends and family while we prepare your feast.
Social Food Events
Share, laugh and mingle
Our social food events are a perfect opportunity to unwind, relax, and meet new like-minded people around a table full of aromas and flavors. Check out our Facebook Page for upcoming social food events in Porto.
Cooking Classes
For family, couples and group of friends
For the curious palate! Put your chef's hats on and get ready to be immersed and inspired by spices, aroma and herbs, the very foundation and the heart of subcontinental cuisine. We will teach you to accomplish a 3-course menu.
HOW TO BOOK A PRIVATE FOOD EVENT OR COOKING CLASS
3 steps to your culinary journey
Booking a food event with us is very easy.  Our first collaboration is just  3 simple steps away.
Send us an email using the contact form on our website. We usually reply within 24 hours.
We like to know about your food preference so we can tailor a special menu for you according to your needs.
After we have finalised the menu and prices, we will come to your place to cook or deliver your order at the given dates and time..
WHY TO BOOK EVENT WITH US?
People who joined our events
Amazing food, great cultural experience. There are no barriers concerning passion for food with Junaid Khan at Nomadic Munchers. He came twice to cook at our house and friends simply loved it. Besides, it was totaly affordable event.
–Silvia
I highly recommend Nomadic Munchers. It's delicious, authentic and made with passion.
–Munira 
By far the best Meet up event I have ever been to. It was the perfect mix of internationals and locals in the most welcoming setting gathered around amazing food. I felt like I was at a friend's house meeting the most interesting people over a home cooked meal you could only dream of making yourself. Highly recommend!
–Martha Ann
It was an amazing experience! Great food, amazing atmosphere. Also, we get to know very special human beings.
–Zulmira
This event was incredibly special. The atmosphere, people that it attracts, hospitality, and food are exactly what I was searching for. Junaid is the perfect host and chef, don't hesitate to sign up for this evening event!
–Andy Crompton
Please note that sending us an email doesn't mean you booked your event. After receiving your message we'll contact you to confirm the details, price, and date.
Where we work?
We are Nomadic Munchers so we move place to place. We are available for food events in Porto, Aveiro, Lisbon and Braga. To learn more about available location send us message.
We do special orders.
We're open for special deliveries. If you're interested in ordering the food without booking the event with us send us a message with the details.
Subscribe For the Latest News